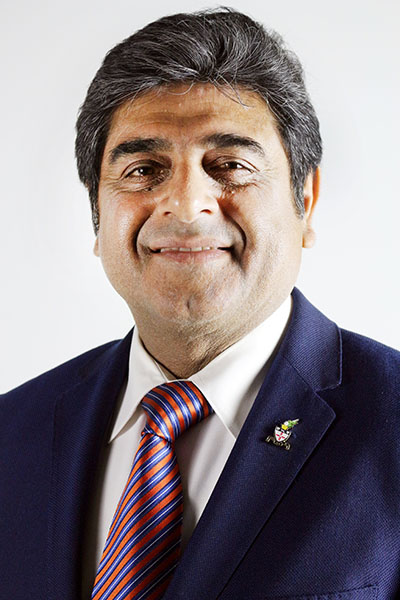 Mr.Atul Vir
CEO, Equator Advanced Appliances
A Hands-On CEO, Entrepreneur and Author
Atul Vir is a hands-on CEO, seasoned entrepreneur, inventor, author, eqAtul Pic Newspeaker and business ethics thought leader committed to excellence and innovation. Mr. Vir operates his global company, Equator Advanced Appliances, on the principles of strong ethics and superior customer service — values that set him apart from the laissez-faire conduct of the business world. He shares this expertise in speaking engagements around the globe, and in his soon-to-be-released book sharing his entrepreneurial journey and key lessons for global business leaders.
Mr. Vir founded Equator Advanced Appliances with one goal: to help his wife spend less time doing laundry and more time with her family. Over the years, he has grown Equator into a leading appliance company with interests in the United States, India, China, Canada, Mexico and Europe. As the President of Equator, Mr. Vir is known for designing some of the world's most innovative household appliances, including combo washer-dryers that wash and dry in a single unit. Mr. Vir's work has led to 18 patents and a global reputation for innovation.
An Indian immigrant who was told "you don't know a damn thing about business" in his first American job interview, Mr. Vir has since been twice named Wells Fargo Bank Entrepreneur of the Year, was an Ernst and Young Finalist and is an internationally acclaimed CEO. Equator has been ranked 3 times in the Houston 100 List of Fastest Growing Companies, and has been featured in leading media such as CBS News, HGTV, Oprah, Fortune magazine, Popular Mechanics, The New York Times and The Wall Street Journal.
AN INNOVATIVE ENTREPRENEUR
But that doesn't mean there weren't struggles along the way. Throughout his "trial and error" entrepreneurial journey, Mr. Vir has witnessed the best and worst of business ethics. In his new book he recounts the journey and lessons he's learned over the last few decades with stark transparency and honesty. He's survived the repercussions of a manufacturer who supplied him with flawed products and seen other CEOs make major layoffs to drive profits. As CEO, he's confronted daily with situations that require ethical decision-making. He peppers his rise, fall and comeback story with a bit of humor and a lot of humility as he motivates audiences to make ethics and customer service their top priority — even at the expense of short-term profit.
Mr. Vir has delivered presentations to groups worldwide, including MBA students, industry execs, entrepreneurs and alumni of his alma mater, The Lawrence School, Lovedale. Mr. Vir is appointed to the Dean's Advisory Council of the Business School of the University of Houston-Victoria and is the Principal of Shangri-La Contemporary Arts Foundation. He serves as an advisor at the Newspring Center in Houston, and for the Prison Entrepreneurship Program (PEP). As the founding member of the Youth Leadership Development Program, and founder of the American Institute of Business Ethics, Mr. Vir is a leading proponent and activist for empowerment through education and personal growth.
Quick Summary
A Lesson In Business And Life- Steeped In Adventure
Some entrepreneurs are born. Others are made through life experiences, necessity, storms or circumstances beyond their control. But regardless of their background or the journey of getting from point A to point Entrepreneur, one thing is the same: the call of entrepreneurship runs deep—and once it takes hold, it's got you for life. If you've ever been at the top, or strived toward it, you know the feeling of accomplishment, success, freedom and most of all the trust of those who helped you get there. Now imagine it all stripped away in one fatal moment—the kind of moment that brings empires down, when you discover who your real friends are.